If Asian cinema, particularly South Korean, is in fashion, it is also the case of South Korean productions on the small screen. You only have to look at the number of series, soaps, Korean or Chinese dramas available on Netflix to realize that they are not so far from approaching the American series in quantity as in quality.  ! Discover without further delay our top 10 Korean and Asian dramas:
The meteor garden
The series that occupies the first place of our ranking is not Korean but Chinese, it is Meteor Garden. It is a real favourite and it is certain that you will also be fascinated by this romance between the impulsive Dong Shan Cai, played by Shen Yue and the impertinent Dao Ming Si, played by Dylan Wang.
Coming from a very modest family, the young Dong Shan Cai is accepted in a well-known and well-attended university. There she meets the F4, the 4 most popular boys of the school whose leader is Dao Ming Si. The meeting between these two strong characters is explosive, a game of cat and mouse between the two protagonists will follow. But this relationship will be complicated because of the family and personal situations of our two characters but also because of their strong character… A romantic series to see absolutely and available on Netflix!
Love in the Moonlight
In the second place, we find Love in the Moonlight with Park Bo-Gum and Kim Yoo Jung. In medieval Korea, under the Joseon dynasty, this Korean romantic series follows the story of young prince Lee Yeong and Hong Ra Hon. The latter has been living under the guise of a man and delivering love advice.
The young prince, intrigued by a love letter she had written, brought her into the Palace as a Eunuch. As she begins to form a special bond with the prince, will she manage to keep her identity a secret? Watch it on Netflix!
My Holo Love
My Holo Love is a Korean soap steeped in science fiction as it is a romance between a single and isolated young woman and an experimental hologram.
Han So Yeon, played by Ko Sung-Hee, falls by chance on holographic glasses and becomes in spite of herself a beta tester for a hologram endowed with artificial intelligence and greatly interpreted by Yoon Hyun-Min. She will soon develop an ambiguous relationship with this virtual partner and also meet his creator and model… The actors give a remarkable performance here, the story is gripping and the romance exciting: find My Holo Love on Netflix!
My ID is Gangnam Beauty
In this South Korean drama, you will follow the story of Kang Mi-Rae, played by Im Soo-Yhang, a young girl who was bullied at school because of her looks during her childhood.
Kang Mi-Rae, with the help of her mother, decides to undergo extensive plastic surgery in order to be more fulfilled and happy. When she is accepted into a famous university, it is the opportunity of a new life that is offered to her. Discover this Korean romantic series without further delay on Netflix!
Well-Intended Love
This Chinese romantic series follows the story of Xia Lin, an actress in search of popularity, played by Wang Shuang.
She learns that she has leukaemia and needs a bone marrow transplant if she is to live and fulfil her dream. Then Lin Yizhou, a rich businessman played by Xu Kaicheng, offers her an amazing deal. He will give her bone marrow on one condition: that she marries him!
Distraught, Xia Lin accepts without really knowing what awaits her after this secret marriage… To be seen on NetFlix!
Oh My Venus
Oh, My Venus is a Korean romantic series about Kang Joo-Hun, played by Shin Min-a, who is dumped by her boyfriend because she is too fat.
To move on, she decides to lose weight. She then meets Kim Young-Ho, alias John Kim, a sports coach in the United States who decides to return to South Korea following a scandal with an actress. If this first meeting does not go well, Kang Joo-Hun still ends up hiring John Kim, played by So Ji-Sub, to help her get back on track. To discover on Netflix!
My Secret Romance
My Secret Romance is a Korean romantic series with a lot of humour and whose universe is the world of work.
Cha Jin-Wook, a rich and flighty young man meets Lee Yoo-Mi, an innocent and inexperienced girl. After getting drunk, they spend the night together but Lee Yoo-Mi, played by Song Ji-Heun, disappears the same morning.
Three years later she is hired as a nutritionist in the company run by … Cha Jin-Wook, played by Sung Hoon. This one still holds him responsible for his disappearance three years earlier and it will follow a relationship full of misunderstandings and ambiguities. A romance to watch on Netflix!
She was pretty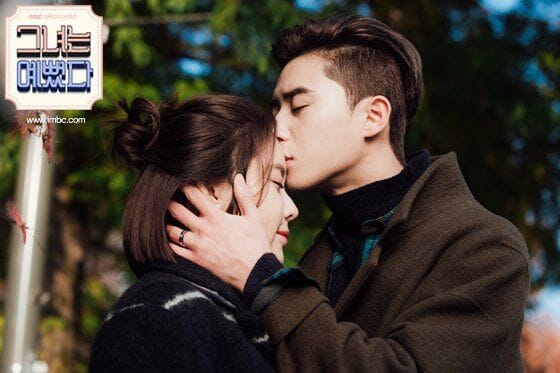 Both funny and touching, She was pretty is a Korean drama that tells us the story of two childhood friends who have not seen each other since their teenage years.
In the past, Kim Hye-Jin, played by Hwang Jung-eum, was a beautiful and popular girl and Park Seo-Joon, played by Ji Sung-Joon, was an obese boy who was mocked by his friends. Hye-Jin defends her and the two children form a strong friendship.
When they meet again, Seo-Joon has become an attractive man while Hye-Jin doesn't really take care of her anymore… Impressed, she asks her best friend to pretend to be her, thinking she will never see him again.
What was her surprise when she saw her childhood friend become the editor of the magazine where she works… A Korean romantic series to watch on Netflix!
Doctor Crush
Doctor Crush is a Korean romance series that tells the story of Hy-Jung Yoo, played by the beautiful Park Shin-Hye, a rebellious teenager, mastering martial arts, of great intelligence and that life has not spared.
After losing her mother and being abandoned by her father, she finds refuge with her grandmother, a pillar for her. Her grandmother lives with a young tenant Hong Ji-hong, played by Kim Rae-won, who is also her teacher at her new school and a former doctor in a large hospital.
Ji-Hong soon realizes Hy-Jung's potential and helps her to get her life back on track. The day Ji-Hong saves a pregnant woman's life in front of her, Hy-Jung decides to become a doctor and specializes in neurosurgery.
A few years later, Ji-Hong and Hy-Jung find themselves, colleagues, in a big hospital and quickly renew their bond but everything does not go as Ji-Hong hoped… This Korean drama is available on Netflix!
A Love So Beautiful
Love So Beautiful is a Chinese romantic series released in 2017. The story of a teenager not very studious but very expressive and passionate about drawing, Xiaoxi Chen, played by Shen Yue. She falls madly in love with Jiang Chen, who is interpreted by Hu Yitian, her neighbour and classmate who is as seductive as he is distant…